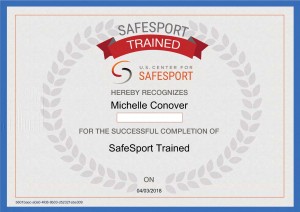 "As a youth coach, creating a safe and positive environment where children can develop character, integrity, sportsmanship and foundational skills is my number one priority" said Michelle.
"Completing the SafeSport Training and obtaining the Level 1 ACE Coaching Certification have increased my skills and knowledge and will help to ensure that I successfully fulfill my duties as a youth coach and make athlete well-being my top priority."
The mission SafeSport is to make athlete well-being the centerpiece of our nation's sports culture. Though education and awareness, SafeSport training empowers coaches to create safe and respectful sporting environments, free of abuse and harassment.
The ACE (Aspire, Challenge, Encourage) Coach Education Program is a coaching program, developed and designed to provide softball coaches of all levels – from beginning coaches to experienced veterans – an opportunity to be educated as a coach with a national softball organization.
The guiding principles behind the ACE Coaching Education Program are:
A-spire: to achieve a comprehensive level of knowledge for the game.
C-hallenge: your understanding and knowledge through continued education and growth. 
E-ncourage: yourself and others to be prepared and knowledgeable as a coach in order to provide your athletes an environment in which they can achieve success.
"If you are involved in youth sports, I encourage you to further your training. Doing so will benefit you and the athletes you coach."