On June 16, 2016 Nanny Magazine announced the appointment of Michelle LaRowe to the Nanny Magazine Advisory Board.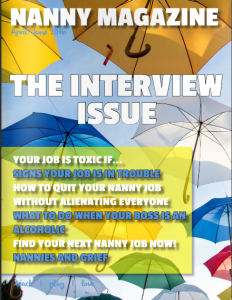 Nanny Magazine is a resource for nannies dedicated to further legitimizing the nanny profession. The magazine features content on professional development, continuing education, health and wellness and top-notch interviews with celebrities and authors.
Michelle has contributed several articles to the magazine over the past several years and is honored to play a more integral role in a prominent industry resource.
To learn more or to subscribe visit www.NannyMag.com.